Appliance Parts in Regina, SK
on-site and
in-house repairs
Re-Appliable Parts Inc in Regina offers on-site and in-house repairs on most major appliances. We provide a 90 day parts and labor warranty for all of our repair services. If something goes wrong within those 90 days, we will make it right by making the repair again free of charge.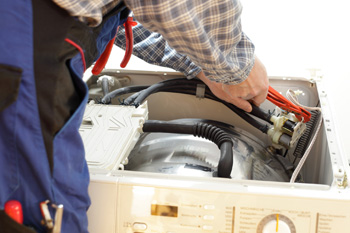 There are many common issues you can experience with your dishwasher that can be easily fixed by our experienced appliance technicians. This includes dishes not drying properly, cloudy glass ware, rusted cutlery, detergent residue, and foam coming out of the machine, and an odor. Of course, the dishwasher can also stop working all together. Re-Appliable Parts Inc can service, clean, and repair the parts needed to resolve any of these issues.
If your stove is not lighting, has a strong gas odor, your oven isn't heating evenly, or it doesn't turn on at all, contact Re-Appliable Parts Inc for a repair service. We repair all electric ranges.
Our technicians will repair refrigerators to proper cooling and freezing conditions.
If your washer is leaving your clothes dirty, not draining correctly, doesn't spin the way it should, has a leak, or doesn't work at all, contact Re-Appliable Parts Inc for repair service. We have the parts available for any make and model.
If your dryer isn't drying your clothes at all, makes a loud humming noise, or takes a long time to complete a cycle, we can fix any part of your dryer, including the vent, belt, electrical wire, sensors, and much more.